Story by Tim Sharp • Photos as Credited
If you are a fan of History channel's "American Pickers," you have heard Mike, Frank and Danielle talk about collecting "smalls." In their world, smalls are vintage items like old oil cans, wind-up toys, hood ornaments and weathered driving gloves. The pickers love these items because they take up very little space and typically require a lower financial commitment, but have excellent profit potential because they are super accessible and appealing to buyers.
We like small classic cars for many of the same reasons. They're easy to store, fun to drive, and usually don't cost much to maintain.
What qualifies as a small? We queried Louis Hudgin, one of the top authorities on small classic cars. He is a pioneer of the oldest small car show in America, the Southwest Unique Little Car Show. It has been celebrating small, yet fun, cars for nearly 40 years.
Louis says that the basic qualification for smalls is that they feature engines displacing less than 1500cc. He also prefers them tiny and rare. This group would include everything from affordable 1950s Fiat 500s to multi-million-dollar 1930s Bugattis. That means there's a small car to appeal to just about every type of buyer. It also explains why they're likely the next big thing.
Something for Every Budget
Old and rare doesn't have to mean expensive and exotic. During last year's Scottsdale sale, Barrett-Jackson offered four diminutive Crosleys; the least expensive one, a two-tone 1949 coupe billed as a survivor, fetched $3850. Russo and Steele offered a large array of small collector cars during that same week: A 1947 MG TC sold for $25,300, showing that solid examples are starting to gain traction again, while a well-restored 1961 Vespa 400 Coupe-just 400cc and two seats-went for $17,600. A 1960 Bugeye Sprite brought in the same amount, and a sporty Austin Bantam roadster sold for $31,900.
Smalls can be found at the upper end of the market, too, but we're still not talking Ferrari money. Last year Gooding & Company sold a 1961 Kurtis Offy midget for $57,200. Fiat Jolly prices seem to have cooled a tad, but they can still run to six figures.
Smalls: The Next Big Thing?
Over the past decade, many collectable Ferraris and Porsches have doubled in value-or done even better. The competition for these cars is just fierce, though, so even if the market levels off, your chances of uncovering a rare Ferrari or Porsche barn find are extremely low.
We see smalls as the alternative for those chasing the investment side of the hobby. Since most of us will never discover an old Ferrari or Porsche Speedster in a shed, why not turn our attention to the barn finds that still exist? How many Isettas, Autobianchis, Fiat 600s, Abarths and small-bore vintage race cars are out there? Why not get ahead of the curve and start looking for them?
Bryan Hinsley is a smart car guy with a collection of affordable smalls: two BMW Isetta 300s, a BMW Isetta 600 and a Honda 600. He has some sound advice for collectors of these cars: "Parts are fairly reasonable, but you need to find a local guy who can work on them. Do your homework before buying any small car. Establish contacts, know where your can get parts and how much they will cost." Most important, Bryan says, "You should buy a small car which excites you."
In the upscale smalls market, collection owner Scott Gauthier has been ahead of the curve for decades. Scott purchased and restored a Fiat Abarth l000cc Record Monza some years ago; it is now valued north of a million dollars. He also has a 1948 Fiat Topolino Panamerica 750 worth roughly as much, plus Siatas, Vespas and Zundapps. Most are restored, yet some remain untouched.
"Why not turn our attention to the barn finds that still exist?" While Scott Gauthier's collection also includes a number of very nice larger Zagato-bodied cars, its curator, Nate Watkins, says, "The smaller cars are easier and less expensive to repair. The mechanicals and interiors are simpler."
Fun-Size and Practical
Let's think practically for a minute. If you have a three-car garage with the family cars occupying two of the spaces, that leaves just one garage space for collector cars. If you can fit two small collector cars into that single garage space, why not do it? We have found that even one small car can turn a typical two-car garage into a three-car garage.
Some small cars don't even need a garage. One can replace that big pool table in your rec room that you never use. Our friend Don Stephan had a little Bugatti 37 in his dining room; it supported a Plexiglas tabletop that could be removed when he wanted to take the car to a race or concours. Russo & Steele owner Drew Alcazar also displays different classic cars in his hillside home in Arizona. These cars are also great conversation pieces at parties.
But can a small car be used regularly? "Small cars—real cars—like 2CVs, Minis, classic Beetles and the like, are perfectly suitable for certain situations, but one must be willing to forego certain amenities, like satisfactory heating; [there is also] no a/c, virtually no safety equipment, no infotainment," says David Yando, manager of the Lane Motor Museum, home to countless small vehicles and microcars ranging all the way down to the 1964 Peel P50, billed as the smallest passenger car ever built. "A decent example of a good shoulder-season car, like a 2CV or a Dyane, would make a great urban car: easy on gas, easy to park, roomy, nobody wants to steal it, and body parts are a web click away if someone takes out a fender."
Fun on Track, Too
Speed comes in all sizes. Some great small collector cars also make great vintage race cars. Vintage Formula Juniors, Formula Fords, Formula Vees, Lotus Sevens, Ginettas, Fiat Abarths and most small-bore SCCA sports racers are all garage friendly. If you prefer even older race cars, look at the Fraser-Nash, Austin 7 specials, MG specials and three-wheeled Morgans.
Smaller race cars can mean lower operating budgets, smaller tow rigs and simpler mechanicals. Also, for some of us, 100 mph is fast enough.
Looking Forward
Darin Roberge, Russo & Steele's Marketing Director, echoes those thoughts about big surprises coming in little packages. "1950–'60s Alfa Romeo roadsters, Mini Coopers, Fiat 500s, Austin-Healey Sprites and MG Midgets are affordable and fun little cars," he explains. "They also have good parts availability, so the path to restoration is good."
As for what will drive the future of the little car market, Darin believes that it will be the usual forces. "Collector cars are all about passion and nostalgia," he says, adding that most collector cars are bought strictly on emotion.
Pick Your Price
A sampling of small-car selling prices from some recent auctions.
Made In Japan
Traditionally, small collector cars have come from Europe–but don't overlook Japan's contributions here.
In 1963 Honda released their second four-wheeled offering, the beautiful S500 roadster. Power from its 531cc twin-cam engine was sent to the back wheels via a chain drive. At 130 inches from stem to stern, it's only about 10 inches longer than a same-year Mini.
Honda soon increased engine displacement, altering the model designation accordingly, to create the S600 and then the S800; both were offered as coupes and convertibles. The manufacturer wrapped up production of the S800 in 1970. Today, figure less than $50,000 for a top-flight example.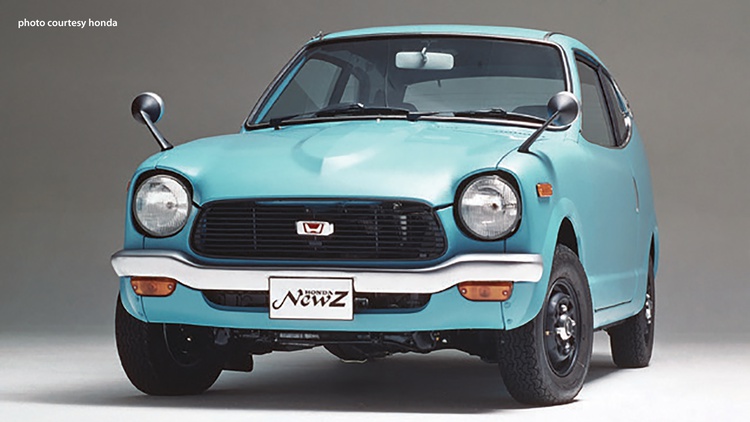 The brand's first official American offering was their three-door, two-cylinder, two-box N600. Squint a bit and it almost looks like a Mini. The sportier Z600 soon followed it to our shores with similar running gear but smoother lines.
A small standout from Toyota would be their Sports 800, a targa-topped, 790cc-powered coupe built from 1965 through 1969. It was never officially imported to the U.S., and a few more than 3000 units were built. The last one to appear on Bring a Trailer was offered two years ago by a French dealer for about $80,000.
Japan has offered even smaller cars, too, via their kei class–small vehicles intended to help mobilize the postwar population. While originally restricted to 150cc of engine displacement, in 1955 that limit was bumped up to 360cc.
Small doesn't have to mean boring: Mazda offered their 69-inch-long R360 coupe from 1960 through 1966. Subaru's 360 line included a convertible as well as a coupe during its 1958-'71 production run. (Thanks to Malcolm Bricklin, the Subaru 360 was eventually imported to the U.S.)
Kei cars grew to 550cc for 1976, and their current 660cc spec was adopted for 1990. These 660cc-powered kei cars can't produce more than 63 horsepower, while the max length is now set at 3.4 meters-a little more than 11 feet.
Modern performance kei cars have included the drop-top, mid-engined 1991-'96 Honda Beat, the 1991–'97 Cappuccino sports car, and the gullwing 1992-'95 Autozam AZ-1. Nissan's retro-styled Figaro, only built in 1991, featured a large, cloth sunroof. While none of these modern small cars were sold stateside, anything more than 25 years old now gets a free pass–and American dealers are quickly stocking up.
More like this
Comments
View comments on the CMS forums
You'll need to log in to post. Log in