Not only is this my first Alfa, but this is my first "build log" as well. I'm not entirely sure where to start, but I guess the beginning is a good place:
I found this 1985 Alfa Romeo GTV6 for sale in Slovakia after striking out in Hungary (well, there were only two for sale in Hungary: One was a rust bucket, the other wasn't a GTV6)
Photobucket isn't working for me right now, but when it does I'll have a lot of catching up to do! For now, here is a picture from the advertisement: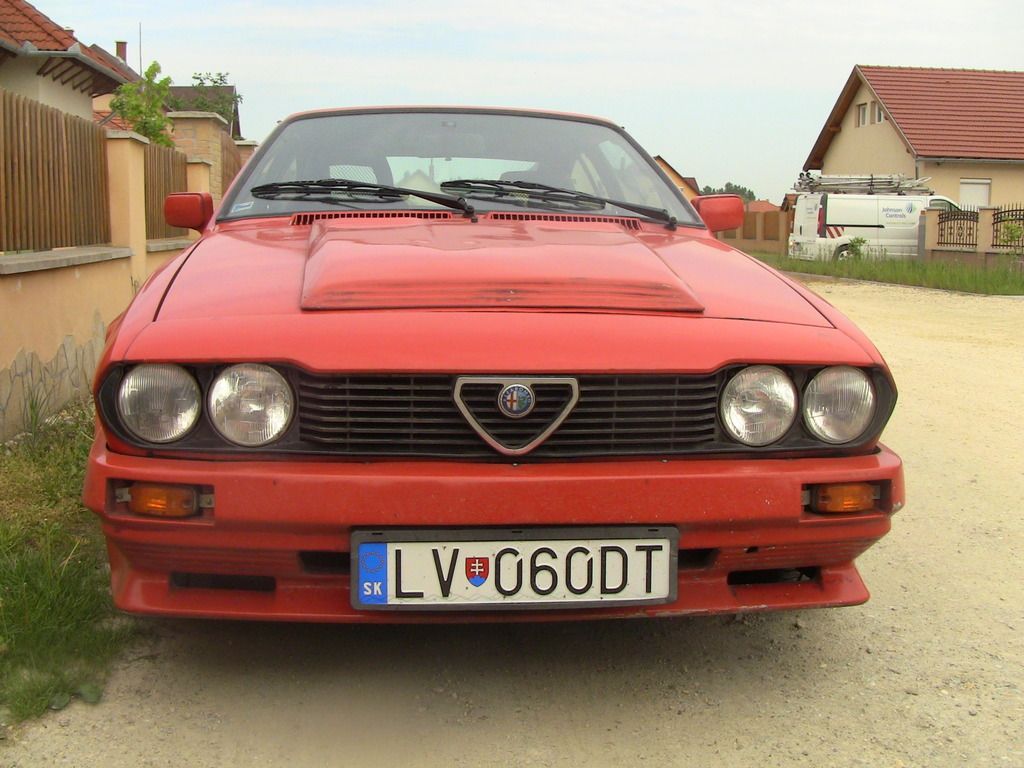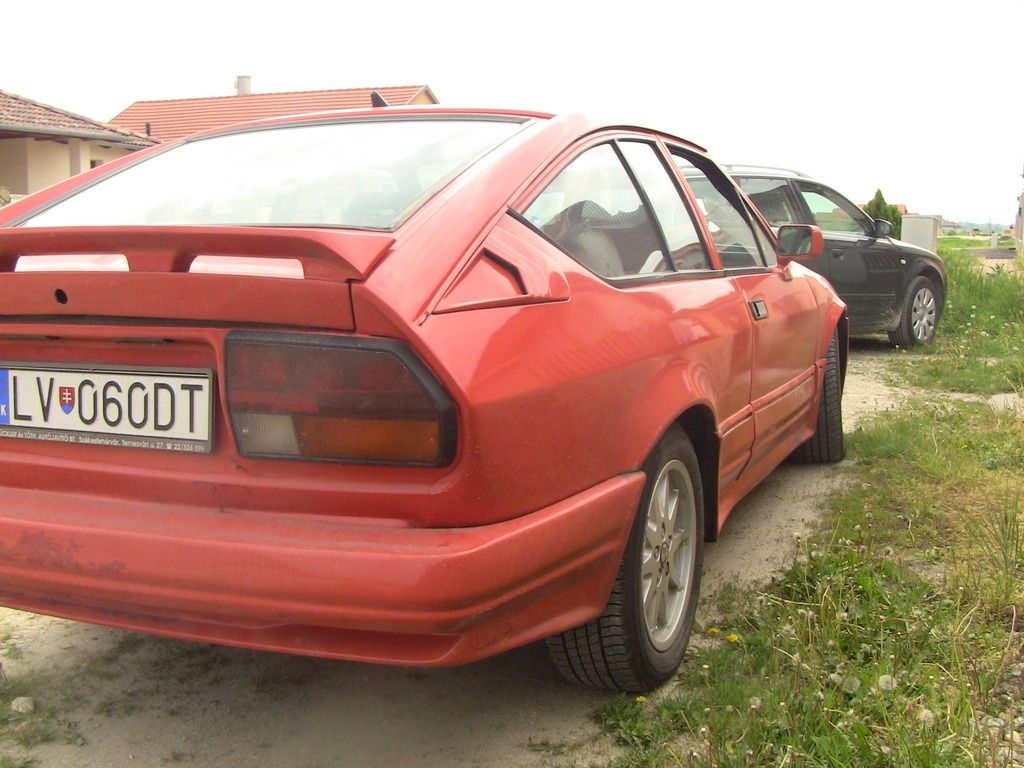 (she looks a lot prettier in pictures than she does up close)
I've gotta be honest here; had I known the car was in this condition, I would have never gone to see her. As it sits though, I DID go out to see her and seeing her the way she was really broke my heart. Just the day before I was looking at modifications that would be on par with D-Street Prepared, today I'm just hoping I can get her on the street and safe!
I'll go over where she's at so far:
I call the current paint scheme "Crap Orange Peel". That's "crap" because that's what it looks like, "Orange" because I'm sure that was the original intent of the boy racer who thought that was a good idea, and "Peel" because that's what's happening to it now because they did a bad job.

There is over-spray from the crappy paint job everywhere.

The brakes feel soft and pull to the left if you decide to use them.

The steering pulls a bit to the right, and shakes like the dickens when you go above 2500rpms in 5th gear. I'd tell you how fast that was in KPH but unfortunately that brings me to the next bullet:

The speedometer doesn't work.

The blinkers don't work. I hit the switch out of habit, but it really doesn't do anything. As a matter of fact the front blinkers aren't the right ones, but no worries because the PO bent a piece of tin as a mounting bracket to screw them to the bumper.

The Zender body kit (I honestly didn't know that was something desirable) was installed poorly, and the paint makes it look cheap.

There is something broken under the dash and above my left leg that is allowing a lot of wires and fuses to hang dangerously close to my clutch knee. No worries though, because there is quality hemp rope holding it up and out of the way.

The clutch is rather "high" for my tastes. Not sure if this is indicative of it needing to be changed or not.

The wipers take a full five-count to make their sweep, and another full five-count to return (regardless of switch speed setting)

The exhaust leaks and fills the cabin with fumes.

The exhaust leak smells like the engine is burning oil.

The exhaust sounds excellent but can't be original and begins to drone after a while.

The engine will stall if you try to take off under 2500RPMs. It also doesn't like to idle or stay at a constant cruising speed.

The engine doesn't seem to make much power

If the engine stalls, the battery doesn't have enough juice to operate the brake lights and the starter (ask me how I know).

When I got home the passenger front tire was almost flat.

The passenger window wont roll up.

The driver's window requires assistance to roll up.

The passenger seatbelt doesn't retract all the way.

The steering wheel is ugly

The PO painted all the gauge and vent surrounds "Boy Racer Red"

I think the engine might have an aftermarket cam, but I'm not sure. I was just handed paperwork from a German shop with cam duration and lift specs on it.

Lots of valve chatter.

The steering wont "set" in a turn. It goes like this: You enter the turn and hold steady pressure, when the G's start to load the car decides to decrease it's turning radius, you adjust, then it changes again.

Rear brake pads could use changing.

Dash is cracked, roof lining is saggy, door card covers are wrinkled, and the pillar covers are wrinkled.

Girls look at the car, but not in the way you want them to.
On the good side:
Lots of spare parts.

Tires look almost brand new

She wont end up in a Junk Yard

Alfa Romeo
Good times! I have high hopes for this ol girl.