Good morning all, longtime lurker of this forum. I enjoy the DIY attitude and creativity/desire to fabricate around here. Figured I'd fit in with some of my past adventures. I'm currently in an '09 M3, but to understand where we are, we have to look back over a decade first...
My name is Norbert, a mechanical engineer from WNY working in the aerospace industry. I've been out of the BMW game for some time, but finally in my first ///M car - and a hell of a machine at that. It's an '09 Interlagos M3 with a 6 speed, but the story of my appreciation for German iron (aluminum?) really starts back in around 2012-ish, and takes many detours along the way.
I tend to be long winded and enjoy documenting my automotive journey/adventures, and that is even more true given the current pandemic situation - so grab your favorite beverage and enjoy.
I'll sprinkle in some of my past build threads/journals here and there if anyone is interested.
In 2011 I was a freshly graduated engineer working for a mechanical contractor/design firm driving an '06 Sentra SE-R Spec V - a fun car in its own right, but somewhat didn't fit into my new lifestyle. What it did teach me via various brake jobs, wheel bearing fixes, and bolt-on installs, was that working on cars was not difficult and actually enjoyable. It also saved me a ton of money, which freed up funds to feed my automotive passion.
So, with the desire for something more comfortable and sophisticated while still being fun to drive, I dove head first into the German car world and bought a 2001 BMW 540i Sport. 6 speed manual, 4.4 M62TU V8, fun options like rear sunshade, heated seats, etc. It was a great car and I drove it basically stock while replacing the cooling system and getting it back to decent mechanical condition.
------------> E39 540i MAINTENANCE THREAD <-------------
It did okay burnouts for an open diff. I installed an exhaust cutout and fell in love with V8s.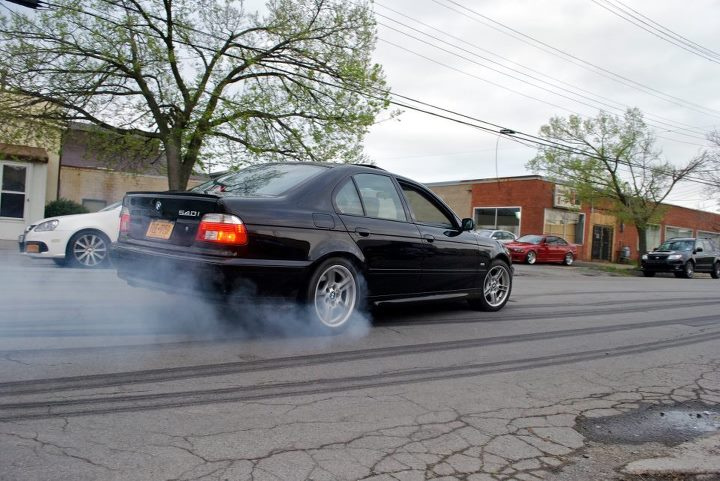 After about a year of driving it stock, I got the itch for more power and decided to go nuts.
---------> E39 6.0 LS SWAP BUILD THREAD <----------