Been a reader here for a while, thought a few of you might be interested- It's more of a build thread so please keep in mind that it's far from finished, but here's what I've been working on now that everyone is stuck inside.

I've spent a good amount of time in Boxster 986's, owned 3 of them, and really enjoy the platform. So I went out searching for the worst condition Boxster in the country to use as a donor. (If anyone needs some spares I have a ton by the way...) I eventually found one close to me that was perfect- a 2002 S with 200k miles, a lot of questionable things, a spray painted rear bumper, and the evap line was plugged with a 5.5mm hex driver. something that I didn't mind tearing up. It also somehow has machined Victor racing wheels, and Fabspeed headers... My purchase price was about the cost of the wheels if I had to figure correctly. It ran and drove great, and made it 100 miles back in traffic.

I'm a bored college student with a history major and never claimed to be an engineer- I usually throw things at the wall and if it doesn't break it's good to go. However, a few structural components get tested in Solidworks for structural rigidity and motion, with a 10% error on the weakest component- for the frame I'm using 4130 with ER70-2 filler, so therefore 10% error on the properties of the weld since it's the weakest. I also overbuild things because I don't want to die, at the sacrifice of weight.

I'm calculated out at 500 kg curb weight. I'm planning on using megasquirt for the fueling, and individual throttle bodies on a custom intake. Boxster brakes will be more than enough, and petals use factory brake and clutch master.

I have a 2 car garage in the suburb of Phoenix so I'm not exactly flush with room, so it's a tight fit, but my shop does okay. Plasma table has made it a lot easier on smaller components, and pushrod suspention- so far it's working out well. The goal for styling is 60's F1 cars, Think Lotus 49.

Below are some pictures- I'm open to criticisim, and I know at this point it looks like I have no idea what I'm doing but I do sorta have a plan and once it's a rolling chassis it'll come together a bit more. Feel free to ask any questions or make recommendations. Let me know your thoughts!
To start, Here's the donor... (Again if y'all need parts let me know...)



Engine and rear subframe pulled.




Front suspension Design (It changed but this is the only picture I had.)




Clean your radiators, people.




My tubing bender setup. Luckily I built my bumper with a front hitch...




The rear subframe missing some pieces




An A arm




All the parts that go into a front A arm, not counting suspension. If anyone works at McMaster Carr I'm open to sponsorship opportunities. Please.




Front shock sleeve mount. I wanted to use the factory hubs and needed something to hold in the shock mount because I'm going pushrod.




Rear Shock Sleeve mount.




Drivers rear. You can really see how bad the axle angle is on the factory 6 speed boxsters.




Exhaust,




Rear with tires




Petals (designed to use factory clutch/brake master)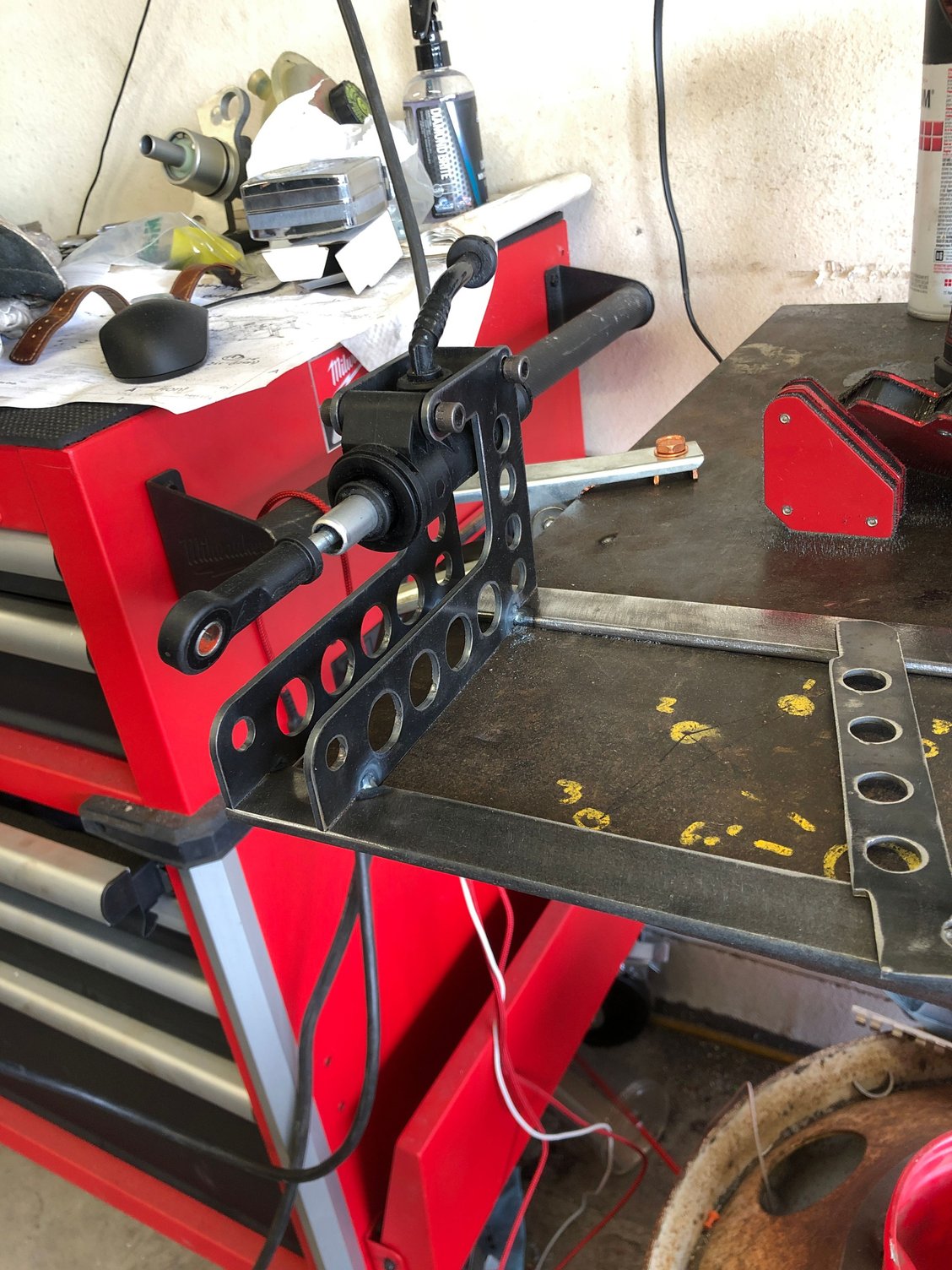 I was already out of room.