so, i figure ill get the introductio to the project out of the way, and share my score with everybody. im really excited. ive been wanting to build a 64/65 for myself sice i built a 65 with 4 wheel discs and hotchkis suspension for a customer. it just worked for me, and i loved that truck for the little bit of time it was in my care.
since then ive been on again/off again looking for a solid example of one to build. after my health troubles last year, i decided if i was ever going to actually do it, i needed to get around to doing it now. so i put my daily driven truck up for sale, and started digging. this past saturday, i did right at 400 miles looking at various examples of 64-72 el caminos. one really caught my eye, but it was a big block 72 that just didnt really do it for me. on the way home, at a mcdonalds, i was looking through craigslist. came upon a text only ad, on the way home (ish), that had been posted about an hour prior. so i called the guy, and went to see it that night. it was dark, cold, and windy. truck hadnt been started for about 6 months, or moved in that time period. the egntleman i had bought it from was laid out of work, and was selling it to pay bills. i didnt even beat hhim up on his asking price....
anyway, we tinkered with it for about 2 hours till we gt it to fire. between bad batteries, bad batter cables, bad gas, etc, took siome doing. but when she lit, no noises, no smells, no nothing. just ran like a top. the previous owner said when he bout the truck 10 years ago, the guy he bought it from claimed he had just put a new engine in it. i dont knnow, but the tops of the heads are pretty clean, so ill go with it for now.
i told the guy i had to get final approval from my wife, and id be back after church on sunday with some tools and grubby clothes. when i went back, i really pored over the truck. found some rot in it on the quartes and floor pans, but nothing serious. truck had new exhaust, somewhat fresh motor, all the trim, good glass, ran and drove. 350 4bbl, 3 speed on the floor with a hurst shift box. manual drums, manual steering. seemed to be pretty origonal and unmolested, all things considered. previous owner told me he was told that it was a belmont NC fire marshalls truck before the guy he got it from bought it. no way of knowing for certain, but its kind of a groovy story.
anyway, the truck was an origonal powerglide truck that had been swapped. seems like almost all the auto trans column shft stuff is still there. heater and all electrics work, except dome light and radio. brakes are horrid, and there was no fluid in the resivoir. radiator was pretty low as well. factory clock in the dash no longer wrks, either, but all the idiot lights do. someone also put wat appears to be early 70's american racing t70's on it. theyre in almost mint shape. also, it had had a spotlight on the drivers a-pillar, which did not come with the truck.
i drove it around a good bit on sunday, put all the cash from my sock drawer down as a deposit, and went back today to sign title, pay the balance, and trailer it home. my dad went with me, and we had a very good time. really enjoyed it. giot it home, and started to just get the grease, griome, dirt, and debris off. today was just the first layer.
i figure i ought to give the broad brushtrokes of my plan as well, since this is the first post.... a few years ago, i built a track oriented, daily driven s10. called it the drivabeater.
http://www.pro-touring.com/showthread.php?43374-project-drivabeater&highlight=drivabeater
that truck was low budget, but quality. looked good from 5 foot, handled well, stopped well, ran out well, still carried a payload well. sold it to get my bigger truck. sold m bigger truck to get this one.
anyway, the general plan: have a 64 elcaino that looks good from 5-10 foot. bench seat, column shift. 4 wheel discs, chassis upgrades for stance and handling. AC, overdrive, EFI, and various other creature comforts. i want to keep the period look as much as possible on the exterior and interior, but the engine bay will be a different story. that will sprout serpentine accessories, electric fans, TBI, hidden wiring, etc. the plan is to complete this truck for under 10k, and habe it run next to my duster at the pro-touring events. ill have to find someone else to drive it there, though. the exterior will still have all thr trim, and im hoping to find a cheaply priced correct spotlight to replace the missing one.
so we will start the budget counting now: purchase price: 3800 battery, battery terminals, and castrol superclean: 115 total curent investment: 3915
on to the pics!!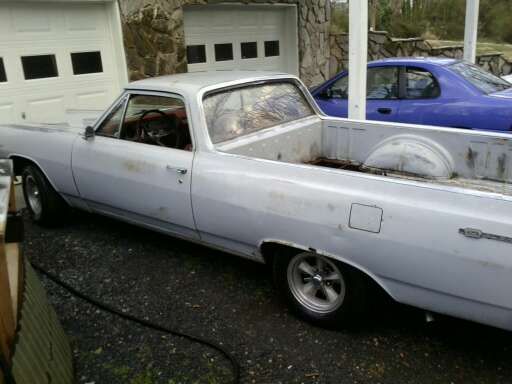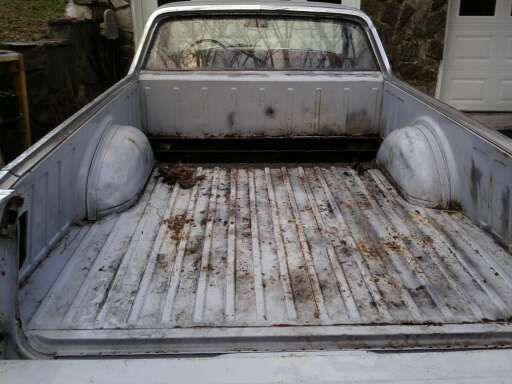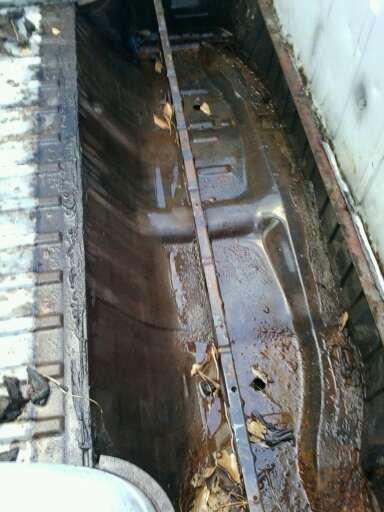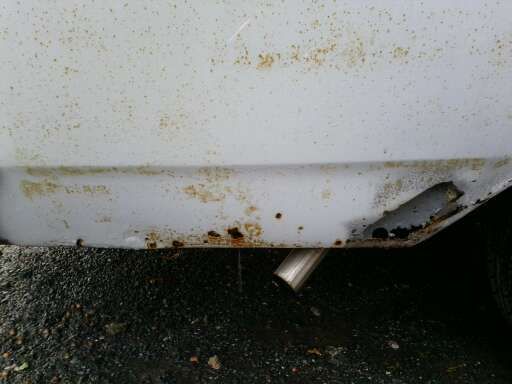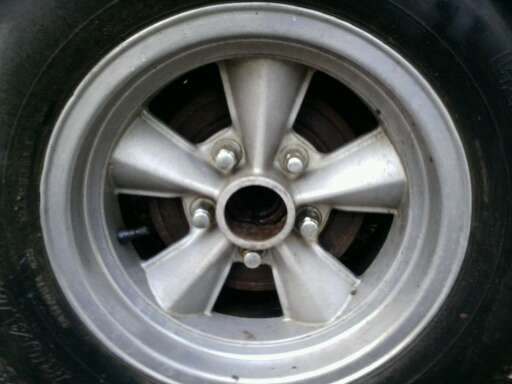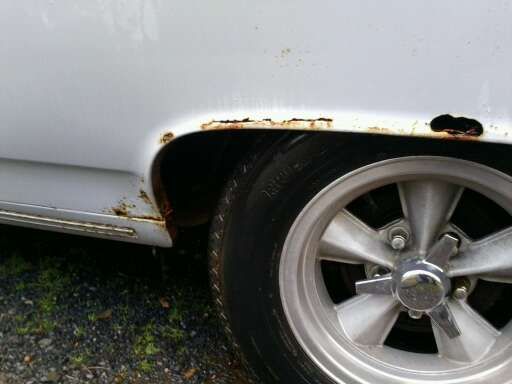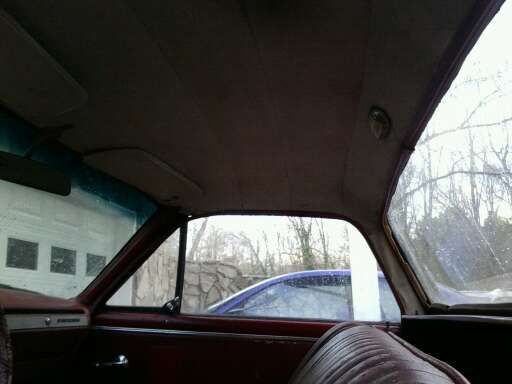 origonal color: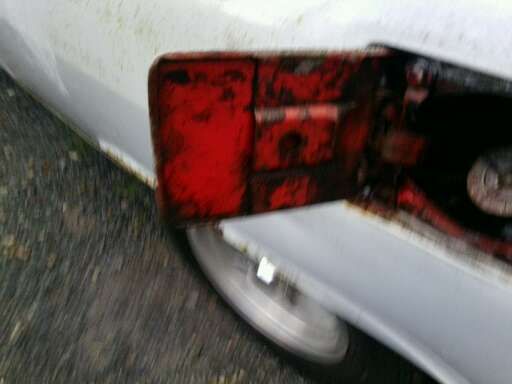 first step will be much, much more cleaning. underneath, underhood, inside, everywhere. this thing is just FILTHY. im expecting to go through a lot more superclean before im done. then on to battery relocation/cable repair, and figuring out where ll the brake fluid went. after i know what im working with, ill start tweaking it for what i want. last thing will be finish paint and body. will probably get bare metal sanded and eoxy primed in teh near future to weatherproof it some. it will, after all, be my shop truck.....
michael