Hello all.
New to the forum. Fellow co-worker is always talking about the GRM forum and you guys in general. He's even done the $2000 build challenge. Anyways, He's part of the reason I registered on the forum.
Now to my build. I've been wanting to convert my M3 over to V8 / 6 speed for a while and finally this year the right donor car just popped up at the right time.
So, I bought it. 2001 F-Body Z28 with a T56 ... Bought it Aug 27th. Drove it for a few days. Beat on it like you should to make sure it was swap worthy. Good shifting T56. LS1 ran strong. So, Out the LS1 and T56 came about 6 days later.
Pulled the LS1 down for inspection and the only thing I found wrong were oil control rings sticking. Scratch honed the cylinders. Cleaned up the pistons and installed a new set of rings and put it back together with ARP rod bolts. Three angle valve job on the heads. Cut them .015"...Howards Racing Components camshaft (.551/.551 lift, 216/224 duration, 114 lobe sep), beehive springs (.625 lift), retainers and pushrods along with LS6 lifters went in. Double roller timing chain as well. New lifter trays and LS6 head gaskets. LS6 oil pump. LS6 valley cover. Little bit of machining required inside the LS1 valley to clear the LS6 valley cover. Also installed an Improved Racing F-Body oil pan baffle to keep oil at the pick up tube. Also running comp cams 1.8 ratio full roller rockers with screw in studs and guide plates. Had to clearance the valve covers so the rockers would clear. Running a Fidanza LS7 flywheel and a GM LS7 clutch kit. Slave and release bearing set up is a Vorshlag kit.
Officially parked the M3 Nov 3rd and we started the swap that Friday Nov 4th.
I will post progress as we go but so far so good. Using a new design swap kit the allows the engine to use stock S52 engine mounts. I upgraded my mounts to the Bimmerworld Group N mounts. The trans crossmember uses a standard T56 Prothane Motion mount. Shouldn't have much NVH from the V8 with this set up vrs the other kits on the market that use small urethane bushings.
Trans tunnel shifter hole required very little changes to make the T56 Hurst short throw shifter come through the hole. Made a small bracket to move the shifter handle 1 3/8" forward and trimmed 1 1/4" off the handle height. The 6 speed shifter now looks like it was supposed to be there.
Using a pair of Sikky headers but I will say now I haven't been very happy with them. Wish I had the time to make my own headers. Their headers have required a good amount of modifying to work and I am going to have to change #7 primary a little to make for better plug wire clearance as well as spark plug service.
Using Vorshlag P/S kit and will be using their ABS pump relocation bracket. Will be making my own new brake lines though.
Used the F-Body cooling fans also. Modified the shroud to fit my Mishimoto Radiator. Used the F-Body shifter boot to seal up the trans tunnel as well.
Went with Wiring Specialties for their harness. Great deal at the right time with that as well and so far I'm very happy with it.
Used your basic C5 corvette fuel filter and cut, flared and knurled my feed line and installed the filter. Running a Walbro 255 lbhr pump and used the stock fuel pump case to hold it in place. Gutted the pump and the Walbro pump slid right into it. Rolled the top of the case and slit the bottom of the case in 8 places to fold those ends down to secure the pump but also be able to remove it down the road if needed. Saved the fuel line ends from the F-Body hard line as well as the fuel rail line and had a custom steel braided line made to run from the filter to my rail.
Anyways, I'll update the thread as I go. That's about where we are at with it now.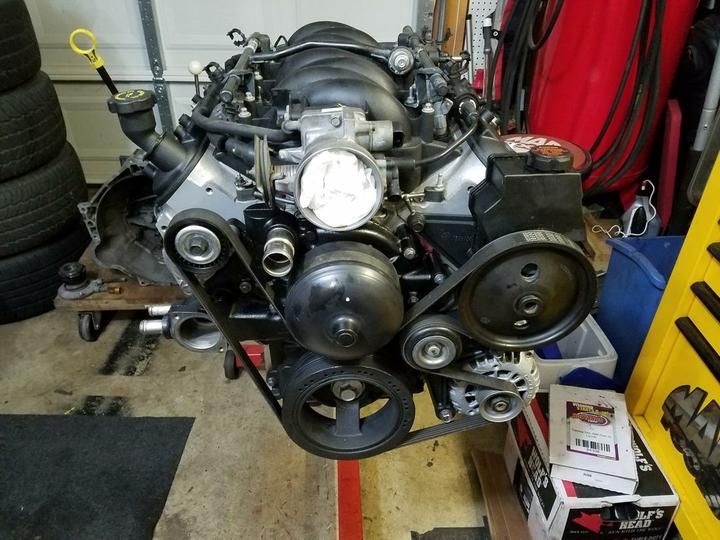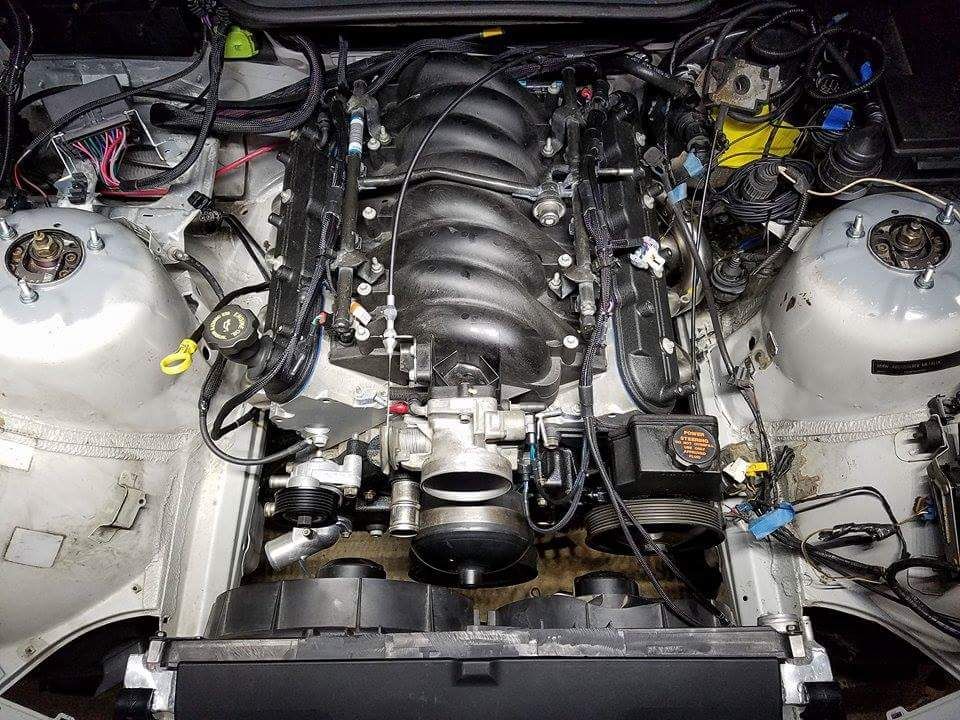 Modified the X-Brace to clear the header collectors. Sectioned it for clearance then welded 1/4" thick plate to close the section back up and also added 1/4" spacer at the 2 rear bolts. It's all painted now. This is mock up photo
F-body fans modified to fit the Mishimoto. Added a small "L" bracket at the bottom so I could seal that area up with foam.