My Austin A-35 Future Goofy Vintage Racer is home.
By Spring '10, it will be a proper Flying Teapot.
It's a '58 with a 948 and smoothcase trans (just like a Bugeye).
I drove almost 1000 miles on Saturday to collect it. Much of it through a lake-effect snow storm in the Syracuse area. I followed a snow plow on Rt. 81 for over an hour.
Special Thanks to JP Smit (from BCF) for finding this on a Canadian Kijiji site (and offering to help me, if needed). I found others but they were too perfect and too dear to hack into a race car. This car is ideal for my purposes.
I washed the car off at a coin-operated car wash in Ontario before crossing the US border (it's required by US law). The car-wash guy came over and shook my hand.....he loved the car and said that his Dad had one. Four French Canadian guys in a Beemer pulled up to me at a gas station and asked if it was for sale. An attractive blond woman pointed at the Austin and gave me a Thumbs Up! I'm going to like this car.......but it wouldn't suit an introvert.
The return to the US was a little worrisome because I wasn't quite sure what to expect. I had all my paperwork done properly (EPA form, DOT form, provinicial ownership title filled out properly) and of course, my current passport. The US officer at the border gate was gruff and unfriendly, but I think that was just part of his act. He sat there silently staring at the car for over a minute before he barked that I should "proceeed forward and then turn into the first bay on the right". Which I did. And the officer in the bay was great fun, talking about my "Mr Magoo" car, etc. The border stuff took about 30 minutes in all....it was no big deal (as long as your car is 25+ years old).
I won't have much time to work on it right now, but I'm building a 1275 engine that I have on hand (and I have a spare ribcage too). Plus lots of other trick Spridget parts (Sprites are based on the A35).
I'll fit the roll cage, renew the suspension stuff and probably run Sprite disks on front. Lots of other plans as $$$ allows. There is some surface rust and a little "hanger rash" but it's very solid. I'll make the body repairs and a friend of mine will paint it (probably a light grey).
I'm keeping my race-Spridget. The Escort is for sale. Until this gets done, I'll race the Spridget and after that, I decide what I want to do with two British race cars (plus the street MGB). I think the best solution is a bigger garage.
The Car right now: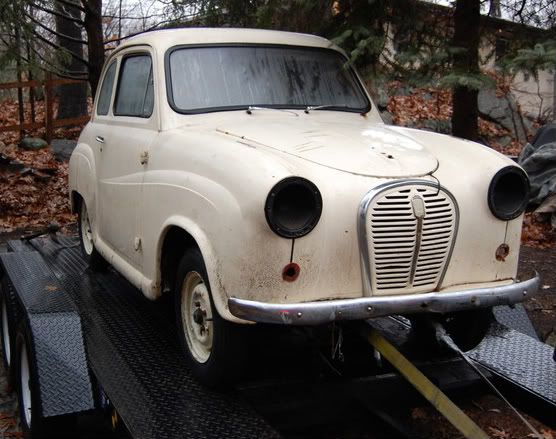 Lake effect snow going north on Rt 81 (near Syracuse) Saturday morning.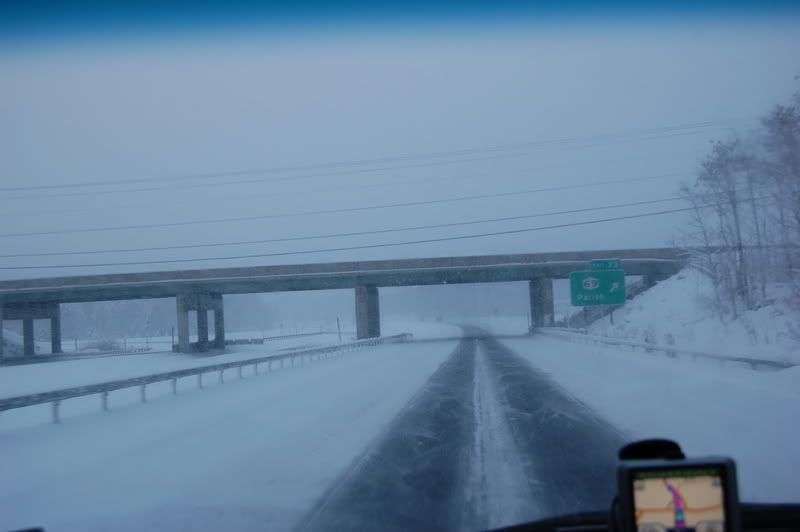 Driving up the skinny, windy Thousand Island Bridge (scary!) Barely wide enough when a big truck comes the other way. Built in 1932.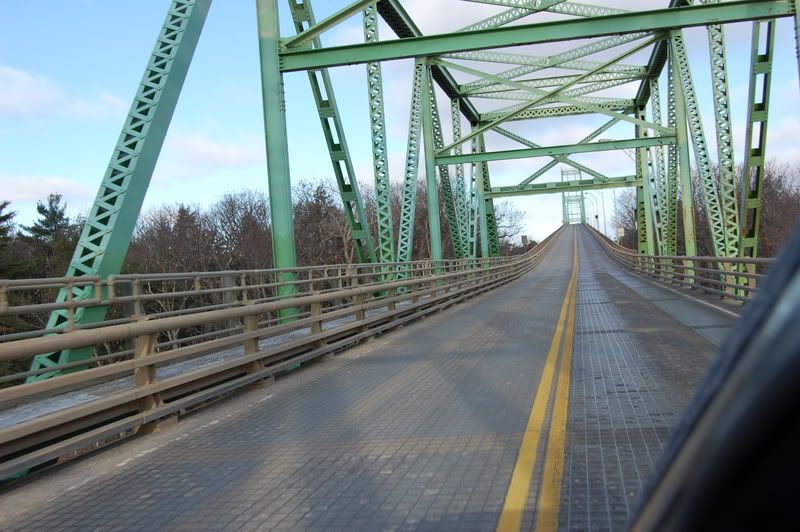 This is my goal (a racing A35 "teapot" at Goodwood)....watch this space......