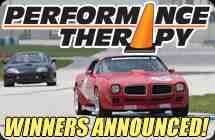 Back in the fall I won a contest called, "The Performance Therapy Online Photo Contest" http://www.performancetherapycontest.com/ organized by John Hotchkis. The winning photograph of me in my Firebird was taken by my bud John Hendrick at the famous Sebring Road Race track. As the Grand prize winner of the contest I am recieving products from Hotchkis Sport Suspension, Baer Brakes, Flowmaster, MSD, Rushforth Wheels, Yokohama tires, Lifeline Fire Systems, Redline synthetic oils, and Hot Wheels.
I started a project thread over on the Maliburacing forum and thought since there's a bunch of g body guys here I'd paste the posts over here as I go. This is a very low budget project and since I'll be doing all of the work myself I think it fits in well as a Grassroots topic. I'm going to paste all the previous posts in first and then will keep up with progress from there as I continue.
Since my Firebird already has a Hotchkis suspension, MSD ignition, and sidepipes (which I like) I'm going to use some of the prizes to give my Malibu some much needed Performance Therapy. During the 15 years or so since I paid a whopping $300.00 for the bu I've used it on and off as a DD and slowly fixed it up a little at a time until about 5 years ago when I decided to repaint it again. It hasn't been driven much since then mostly due to an idiot keeping it for a couple years when he was supposed to weld in a Jegs rollbar kit. the gory details can be seen here. http://www.maliburacing.com/forum/viewtopic.php?f=2&t=90869 And after that I moved far away which was a huge nightmare and at one point I was so fed up I didn't even look at the bu for a whole year.
With 70,000 miles on the car currently, it still has the original unmolested 229 V6 auto combo and all stock suspension except for a rear swaybar I got off of a parts car. So this is going to be an awesome upgrade I wouldn't have been able to do otherwise. I've just about finished reassembling the exterior of the car and just need to put a new Landau vinyl top (I like them) back on.
The Plan: I've got a '70 350 4 bolt engine from a C-20 that was rebuilt by my brother almost 30 years ago but never fired. According to the note on the engine it was magnafluxed and decked, bored .030, has a 3 angle valve job, double roller timing chain, ported head, and a ported intake refered to as an "inverted high rise" which I never heard of. That is all I know (or will know) about it.
I'll be installing that engine with the stock trans and rear by using the MSD prize to set up the ignition, the Flowmaster prize for the exhaust (the new stainless system coming out in a couple weeks), and the Hotchkis prize will cover the suspension and steering. Should turn out pretty cool!
Ideally I'd pull the engine apart and give it the once over with new assembly lube etc. before installing but thats not going to happen. This has to be done on an extremely limited butget and pretty quickly. I've got a few carbs hanging around and I'm hoping I can make one of them work. As it is I think I'll need to upgrade the radiator? and find a V8 fan shroud plus probably a few other odds and ends along the way. This is a grassroots type effort, no media blasting, powder coating or any other costly unnecessary expenses can be done at this time. If a hose or belt can be reused it will be. Anything that comes off that can be sold to help offset expenses will be. The engine compartment will get the infamous "Krylon Touch" to give it a neat clean appearance.
I started recieving the Hotchkis products today so I figured I'd start this thread and let everyone follow along and I'll update while I progress. Here's the list of Hotchkis stuff I'll be using. And I know I need to switch spindles to use the kit.
TVS kit with Extreme swaybars Steering rebuild kit Ball joint kit Tubular upper A arms Bilstein shocks Air bag kit
Here's a few pics of the car. The dormant mouse that will be installed can be seen on an engine stand in the corner in the 1st pic.