I've been mulling this over for a while now and have after some time stumbled upon a potential solution? Full disclosure, I am not very electrical techy at all so I may be heading entirely down the wrong path.
One of the ideas for checking the effectiveness of track aero was to drive on a flat surface at a common speed with and without aero, if you monitor ride height changes you could calculate backwards to get the amount of downforce/lift you are making.
The easy although not GRM friendly option is to buy a fancy data logger ($$$) and 4 shock travel sensors ($$x4) These items are ruggedized for motorsports and can be run on track to tell you a whole host of other things about your setup also.
We're looking for something no less accurate but much less robust simply for gaining knowledge in a test scenario at a much lower price point.
Most every car with HID's have at least a front/rear ride height sensor that spits out 0 to 5v, google shows some candidates that might be easily adapted to any car like this one from range rover:
searching all sorts of various key words ultimately lead me to this little $60 box, youtube videos make it appear fairly simple to operate the included logging software. https://www.dataq.com/products/di-1100/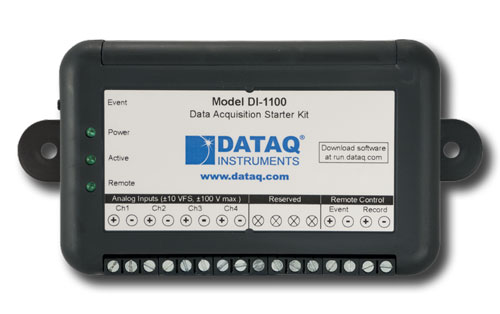 so now I have some sensors, in theory, I will shortly have something that can log 0-5v. next up will be seeing how much the suspension compresses with say, 100 then 200lbs hanging on the splitter and then the wing, that should then give me a reference of how much compression I get and I may be ready to do some logging?
Any glaringly obvious reasons this won't allow me to get some repeatable data? any one else tried this before and succeeded/failed? I found some various FSAE threads discussing this but they were mostly tight lipped about results.