Story by Tim Murray
Bottom line up front: If you have not been to Pebble Beach during Monterey Car Week, you absolutely must put this on your bucket list.
If you can make it here for the Monterey Kickoff on the Tuesday preceding the Sunday Concours, you will be in for a six-day, all-you-can-eat buffet of almost everything the car world has to offer. And if you can find someone who has done Car Week a few times, beg them to come with you. But, even after five days of car shows, races, auctions and dinner parties, I am having difficulty finding the words to describe the Pebble Beach Concours d' Elegance.
After navigating the maze of fencing, buildings and vendor stands that surround the Pebble Beach Country Club, we entered Ferrari's "booth." Casa Ferrari is pretty exclusive, and apparently you have to book access through your dealer (ask us how we know), but they had a display that was open to Concours attendees.
This is the 75th anniversary of Ferrari, and they brought cars from every year, including some one-of-a-kind, rarest-of-the rare cars.
We have been members of the Ferrari Club of America since the '90s, and we have been to the museums at Modena and Maranello–this was a much more varied collection and would have been worth the price of admission by itself.
Photography Credits: Tim Suddard
After tearing ourselves away from that collection, we headed towards the actual Concours show field. All along the way, there were amazing displays of new cars, from the Gordon Murray-designed GMA T.50 to the Delage D-12 to the DeLorean Alpha5–the vast array of supercars and concept cars was mind-blowing.
When we entered the fantasy world that is the Pebble Beach Concours d' Elegance, I knew why they invented the exploding head emoji.
Yes, there are plenty of finely attired people drinking massive amounts of bubbly and holding cute dogs, but that's just static in an otherwise high-fidelity, once-in-a-lifetime performance that is the Concours.
Like kids in a candy store, we hopped from car to car, each one invariably surrounded by people who knew them intimately.
Want to hear two guys argue about the merits of the V8 versus V12 Lincoln? How about the entire history of the 1964 Ferrari 250 LM Scaglietti Berlinetta that won LeMans that year and arguably started the Ford versus Ferrari wars that gave us the Shelby Cobras and GT40s?
Speaking of which, Peter Klutt was there with the second Cobra made by Shelby, immaculately restored, and took only second prize! First went to the 1963 Aston Martin DBS3S built for company founder David Brown, tuned by John Wyer (of Porsche fame), and driven to 12 wins by Sir Sterling Moss, Paul Collins and Roy Salvadori. Also there, the 1965 GT40 MkII that placed second at Daytona and Spa, but apparently that car wasn't important enough (insert exploding head emoji).
Photography Credits: Tim Suddard
At about 2 p.m., the judging starts, and unless you are willing to dip into your 401(k), its best to find a comfortable spot in front of the many big screen monitors and watch the spectacle from there.
We stayed through the 28 class awards where the top-three cars in each class are given a trophy. There are 20-plus special awards culminating in the Best of Show, which is chosen from the No. 1 car in each of the 28 classes. This year's winner was the 1932 Duesenberg J Figoni Sports Torpedo owned by Lee Anderson of Naples Florida. This was something of a surprise as Duesenberg was not among the featured marques this year, but the car was so fabulously designed and restored that its win was truly well deserved.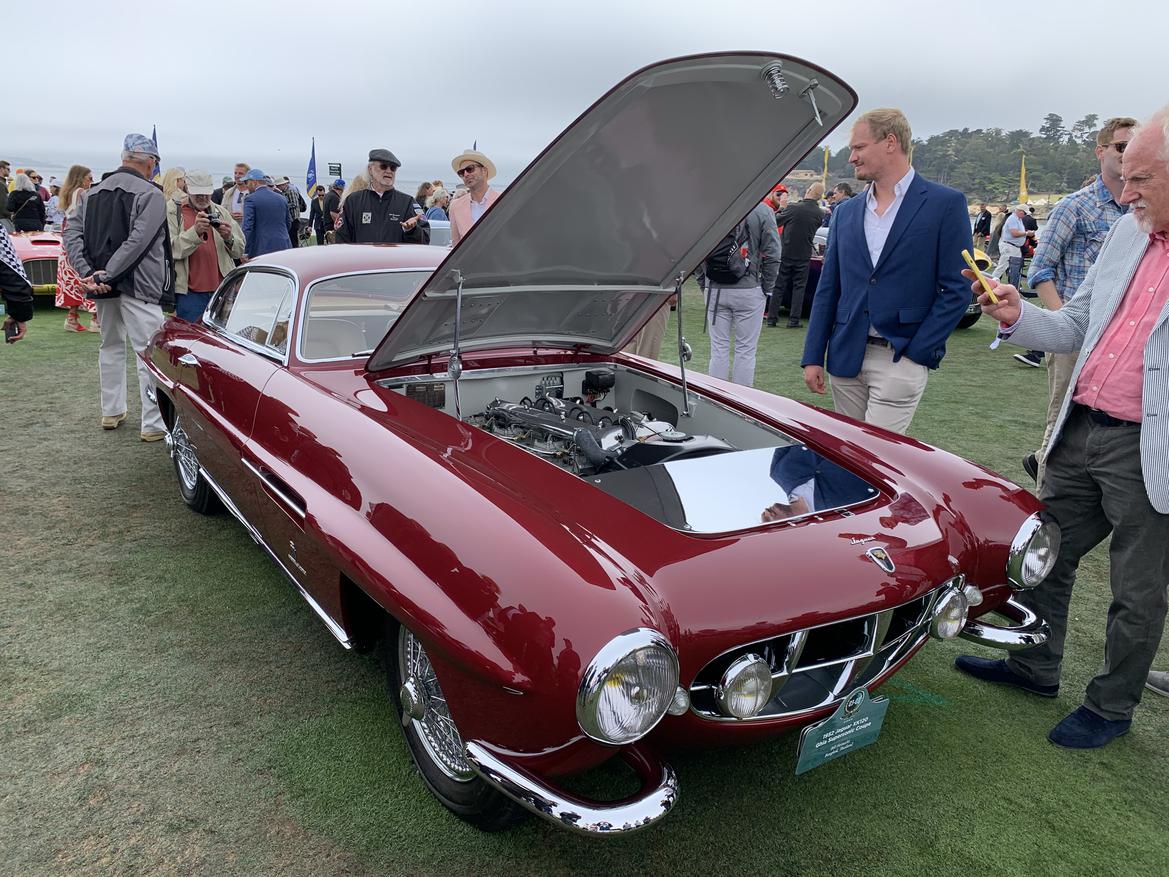 Photography Credits: Tim Murray
Some lessons learned by this novice: wear comfortable shoes and sunscreen and dress in layers. You will be right on the bay, and it was alternately chilly and warm during our visit.
Bring drinks or a credit card with a high limit. Don't be afraid to chat with the people near the show cars, many times they are marque experts or even the owner and they were all happy to talk about the car. We even talked to the judges who were roaming the field during the awards ceremony. Bring a camera if you have one, the phone is okay, but the adjustability of a real camera will help you get the best shots.
Most important of all is to have an open mind and explore the cars you may not think you are that interested in–you will invariably learn something, and you may develop a whole new interest and circle of friends
Photography Credits: Tim Suddard.
More like this
Comments
View comments on the CMS forums
You'll need to log in to post. Log in