Your homework: pre-purchase discussion
For those who don't read: I bought a black on black Tesla Model 3. It's the Long Range Dual Motor version, which means up to 310 miles of range, AWD and a 0-60 0f 4.4 according to Tesla. This is what it's like owning and living with this next-generation vehicle.
I bought it using Apple Pay on my phone because I could and because...well, because I could. Seriously.
First, we did the EV version of a fly and drive. In order to qualify for free Supercharging for two years, we had to take delivery by the end of Sept 2019. Problem - there weren't any available for delivery in time. I was watching the inventory in Denver to see if one showed up so I could grab it, but nothing. Then, on Friday the 27th, I looked at Salt Lake City and hit the jackpot. They had the exact spec we wanted in inventory. Our car!
A quick phone call to my pre-delivery contact person and we changed from a truck delivery in Colorado to a pickup in Utah with about 24 hours notice. If you're not aware, Tesla doesn't do dealerships - you buy directly from the company. And this is the sort of thing you can do in that case. I cannot imagine trying to pull this stunt with a Chevy.
So now we had signed up to take delivery of our new EV and take it on an immediate 300 mile road trip through some pretty desolate sections of Utah. Traditionally, this would have been basically impossible for an EV - but Tesla has changed the game over the past half decade by both stepping up the amount of range found in electrics and building out the high-speed Supercharger charging network. Let's see if it works in practice.
Saturday morning, Janel and I jumped in her 2000 Grand Cherokee and motored out to Salt Lake. 4.5 hours door to door. We showed up just in time for our 12:30 appointment and cooled our heels for 30 minutes as the dealership had to deal with various other problems like a lady who was very upset about her Model X doors. The store feels more like an Apple Store than a dealership, very decentralized and staffed by young enthusiasts. The Utah store had downloaded all the Colorado DMV paperwork for us. No complaints about the service there, that's for sure. We did have to sign a paper saying that we were going to take the car out of Utah which meant we didn't have to pay sales tax. The store also apologized for a rainstorm that had just spotted the car up and offered to detail the exterior again for us, but since we had a 300 mile trip ahead that seemed a little ridiculous.
The car was parked outside, plugged into a Supercharger to ensure it was fully topped up. We changed the maximum charge from 80% to 90% so we'd have a little more buffer for the trip and were given a tour of the car. I went over the car pretty carefully to see if I could spot any assembly line screwups but didn't spot anything. Without the ability to pop the hood and check out the motor, a gearhead feels a little lost.
All done, we got in the car to drive away and it refused. We then unplugged it from the charger and it allowed us to leave. Car 1, Keith 0.
I took the first stint at the wheel because the new car was weird and we were in a city we don't know well so Janel wasn't comfortable. I'd read the owner's manual too. I put in the destination and the car proposed a 15 minute stop at a Supercharger in Price, 115 miles down the road. It told me I'd have 48% battery when I arrived there and then 16% when I got home after the top-up. The store had told us it would take a couple of weeks to activate the free Supercharger access so I wasn't sure what the payment might look like, but this is an adventure.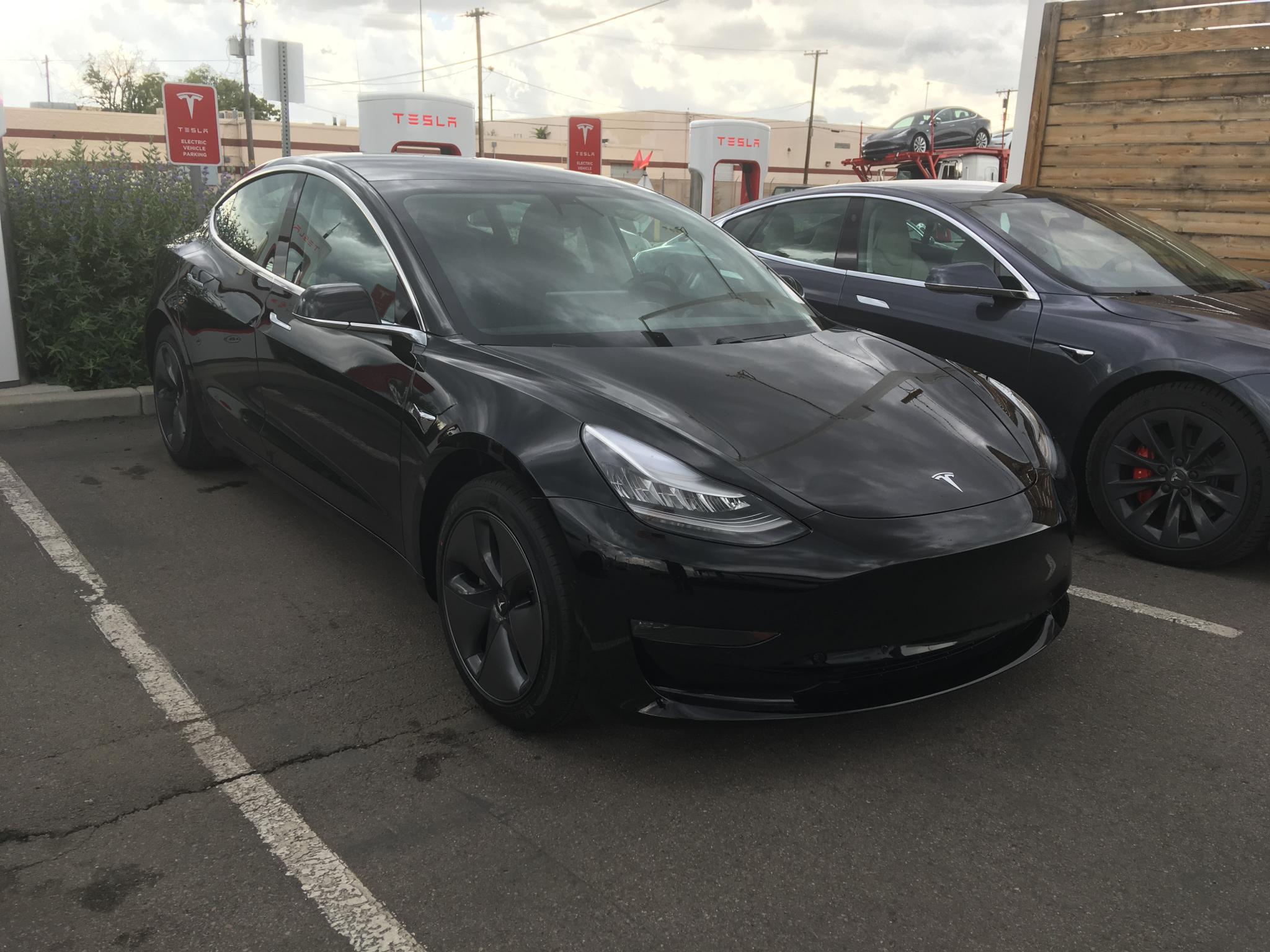 I'll cover driving impressions later, but we picked up the car with 3 miles on it. They have to calibrate a bunch of systems before they come online, so the cruise control wouldn't work for 15 miles or so until all the cameras got their act together. I could feel the steering sort of coming into focus as well - it started off darty and then became nice and stable, almost like the toe was dialing in. That could have also been grooved concrete and a cross wind, but that didn't go away while the dartiness did.
In Price, we found the Supercharger cluster in the parking lot of a Holiday Inn. I backed up and plugged in with 49% charge remaining. Almost had to back a little closer - those are short cables and I haven't figured out exactly how close you can get with the rear camera. There was a DQ sharing the parking lot so we stopped in for a pee and an ice cream cone. The car was asking for 10 minutes of charging but we got talking and accidentally charged the car all the way to full in 30 minutes. I turned on the AC in the car via my phone because it was getting warm inside and I'm a big softy who loves the idea of a car that cools itself down for me.
I don't know how/if we paid for it, but the car said it was under $8 worth of charging. There's no payment method attached to my Tesla account or anything. It's a mystery.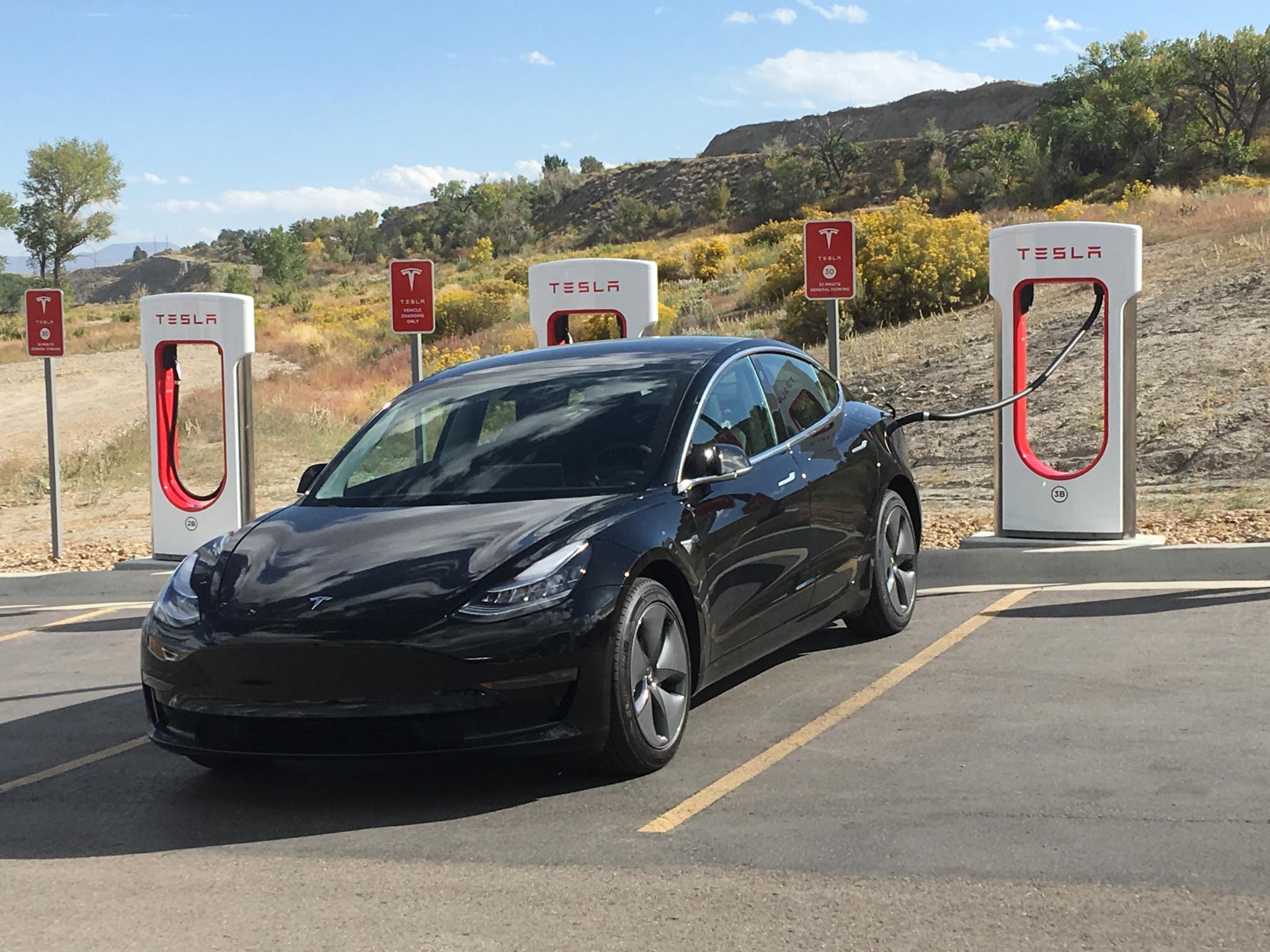 Janel decided to keep driving her beloved Jeep and let me deal with the weird new car. Back on the road, past a set of Superchargers in Green River (the only other set on the trip, but not needed) and we pulled into our driveway with 27% charge remaining. Not only had we charged more than necessary, but the car proved to be a little more frugal on the 80 mph interstate than expected due to a tailwind so the estimated charge remaining after the full "tank" ended up being a little pessimistic.
Unpacked the charger in the trunk - this thing is in a fitted bag that has a high traction bottom on it so it locks into the carpet and doesn't slide around - attached the $35 6-50 plug for the charger that I'd ordered last week, and the car happily started to slurp away at my own electrons. It predicted 7 hours to go to a full charge at 7.3 kW, which works well for an overnight stop. Superchargers are mostly 150 kW I believe, so they'll ram range into the car a whoooole lot faster.
So there we go. Turns out you can do city-to-city electric car trips without too much hassle. We had a pleasant stop in Price and ice cream that cost more than our fillup. The Jeep also got a fillup before we left SLC but you all know what that's like. The Tesla now has 294 miles on the odometer and a lifetime average speed that's north of 75 mph. Now we'll find out what it's like to live with day to day.